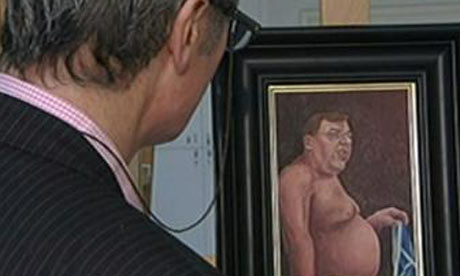 Photo: from The Guardian website, which in turn got it from RTÉ
By apologising for broadcasting a report on the nude portrait hung in the National Gallery by a "guerrilla artist" (a fun, quirky story if ever there was one), our national broadcaster has shown it has no resolve and is at the whim of the government. It's a story that deserved to be covered, purely on the question of how somebody got into the galleries and hung the painting without being stopped. Stories offend the people involved frequently, largely because they don't want the world knowing about what's going on related to them. That's perfectly understandable. However, to give in and issue an apology for what on the face of it seems to be political reasons is just journalistic cowardice.
To quote Gavin Sheridan (who has the original story and apology here): 
Last time I checked, Brian Cowen was a servant of the people, not their master… RTÉ are now officially lapdogs of the Government. 
RTÉ should be ashamed of itself.
by